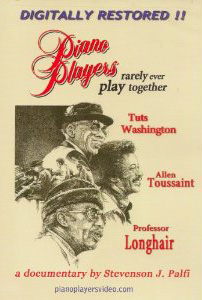 Piano Players Rarely Ever Play Together
Winner of over 20 Awards
Digitally restored DVD version of Stevenson Palfi's 1982 documentary
Featuring:
* Isidore "Tuts" Washington
* Henry "Professor Longhair" Byrd
* Allen R. Toussaint
An astute award winning documentary feature. Through imaginatively edited interviews with the artists, we see the mutual admiration, humor, and purity of heart within this extraordinary musical lineage.
We also hear music that swings with essential rock, rhythm and blues!
"Piano Players Rarely Ever Play Together" is a 76 minute portrait of three great New Orleans pianists and how they influenced one another's music. The three keyboard artists - Tuts Washington, Professor Longhair and Allen Toussaint - are featured playing together for the first time in a rehearsal for a joint concert. The rehearsal turned out to be the only time the three ever played together, because Professor Longhair died two days before the scheduled performance. The documentary takes viewers through the very personal and sacred New Orleans tradition of a jazz wake and funeral procession for Professor Longhair, which was taped at the encouragement of his widow, Alice.
Also included is the previously planned concert with Toussaint and Washington, who turned the event into a tribute to Fess.
$40,000 were spent restoring Palfi's 1982 film that tells the story of New Orleans R&B by interviewing three generations of piano players ... Tuts Washington, Professor Longhair and Allen Toussaint.
For more information or to purchase a copy please contact Polly Waring (Palfi) PollyWaring@hotmail.com or 504.488.4032
Restored by Southeast Media Preservation Lab, www.AnalogLab.org
Few films have so intimately captured the American musical tradition being kept alive as Stevenson J. Palfi's award-winning documentary Piano Players Rarely Ever Play Together (1982). As stated during the introduction, the project initially centered on three successive generations of New Orleans piano legends represented by Isidore "Tuts" Washington, Henry "Professor Longhair" Byrd and Allen Toussaint. The program planned to follow each as they prepared -- alone and as a trio --- for a live gig that would feature them all on one selection.
Although all three parties knew one another, they had never shared a stage -- not to mention the same number. Each artist is given ample screen time to discuss and exemplify their specific styles and approaches. As the youngest of the lot, Toussaint is humbled at the mere thought of being able to spend time learning and creating with his two most prominent influences. While somewhat of a sidebar, it is fascinating to hear just how wide a spectrum of popular music Toussaint has been responsible for. He reveals how the "flairs of 'Fess" as he calls them, informed his early regional hit "Whirlaway."
As well as the residual effect they would have on his compositions "Java," "Whipped Cream," "Mother-In-Law," "Working in a Coal Mine," "What Is Success," "Yes We Can Can," and "Southern Nights" -- all offered in snippets as Toussaint rehearses for the concert. Washington is shown in his very humble domestic surroundings talking about music being "God's gift" and how he was often discouraged from pursuing his love of piano playing as a young man. Of course viewers are treated to "Tuts" in action at the legendary Tipitina's as he unravels a barrelhouse selection titled "Mr. Freddie's Blues" that he claims was written before he was born. There are two particularly inspiring clips of Professor Longhair -- one backed by the Meters on the PBS TV show Soundstage circa 1974 as they rave on "Whole Lotta Lovin'." The other finds 'Fess at the Superdome four years later, giving "Mardi Gras in New Orleans" a mighty workout. Fate has the final word however, as mere days before the three kings of Nola were to create history, tragedy befell the entire universe of popular music as Professor Longhair passed away in his sleep January 30, 1980. The story takes a bittersweet turn as his public New Orleans jazz funeral and festive wake lead up to '"Tuts" and Toussaint taking the stage to perform in tandem to honor their friend and mentor. There are comments from 'Fess' wife Alice Byrd and famed producer Jerry Wexler, who gave a eulogy. Perhaps most moving of all is the ballad that Toussaint penned for the occasion as he fights back tears while he repeats the verse and chorus several times. The producer himself issued Piano Players Rarely Ever Play Together on DVD.
.... review by Lindsay Planer